Illustrations¶
Illustrations let you visualize your data and create figures for slides and publications.
Illustrations can be either used in single-page mode, or in batched layout mode. Batched illustrations allow you to create a template page, and then render that page for each value in a set of variables. For example, you could use flow plots, text boxes and arrows to create a gating hierarchy, and then render that gating hierarchy for all of your FCS files.
Illustration Components¶
A variety of visualization types are available:
along with basic objects, including text boxes, images, lines and arrows.
Illustration Interface¶
Illustration functionality is accessible from the menus, toolbars and sidebar.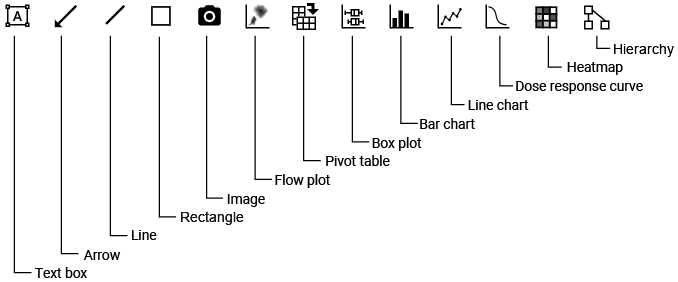 The Pivoting Model¶
Pivot tables, bar charts, line charts, heatmaps and box plots all use a pivoting model to organize the data that they display. After selecting FCS file annotations to display along the X and Y dimensions (rows and columns, or axis labels and data series), files are automatically selected to populate the figure. You can also select populations or channels as X/Y dimensions, or explicitly select FCS files by filename.
Filter annotations may also be selected to limit the files displayed. For example, if you select "Plate Row" for your "rows" dimension and "Plate Column" for your "column" dimension, but have several 96-well plates in your experiment, you can use "Plate: plate 1" as a filter annotation to show data from just "plate 1."
When you select annotations, populations and channels, they will be automatically sorted. However, you can override the default sorting by following the instructions in annotation, population and channel sorting.
Exporting Illustrations¶
Downloading an illustration as a PDF¶
Howto
From your illustration, click the File menu, then select Print to PDF.
See also:
Downloading parts of an illustration as SVG, PNG or PDF¶
Some types of components can be downloaded as SVG, PNG and/or PDF files.
Howto
In your illustration, select one component.
In the right-hand sidebar, click Download PNG/PDF/SVG.
Copying and pasting to other applications¶
You can copy illustrations or parts of illustrations to other programs, such as Microsoft Office and Apple iWork applications. All selected components will be rendered into a single image when they are copied.
Howto
Select one or more components in an illustration.
Use the keyboard shortcut ctrl+C (Windows, Linux) or ⌘+C (MacOS) to copy the selection.
In the destination application, use the keyboard shortcut ctrl+V (Windows, Linux) or ⌘+V (MacOS) to paste.